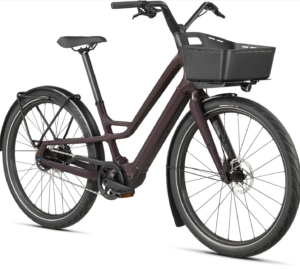 They're clean. They're green. They'll help you zip down streets and sidewalks with the press of a button.
We're talking about an e-bike.
An e-bike is an excellent choice for the environmentally conscious individual. It's a way to make good on your promise to get more exercise. And it's more affordable than you might think.
But should you get an e-bike? In this guide, you'll learn the ins and outs of this technology that's rising in popularity. We'll discuss the types of bikes, and the advantages these bike options offer.
What Is an E-Bike?
An e-bike is exactly what the name implies: an electric bicycle. Don't confuse this with a moped or a motorcycle. An e-bike looks and behaves like a bicycle, with the inclusion of an electric motor.
E-bikes come in two kinds: conversion e-bikes, and regular e-bikes. You can purchase a bicycle with a motor built-in, in or convert your existing bicycle.
E-bikes don't need any gas and don't require much maintenance. Just make sure to charge it on a regular basis. Since the e-bike is just assisting you, the battery lasts longer than an electric scooter.
Why Do You Need an E-Bike?
The question is up to you, but an e-bike provides a number of advantages over a standard bicycle. When choosing a bike, consider making your new bike an e-bike.
First, they're easy to use. Most detect your pedaling input and add some torque to allow you to go much faster. Learning to bike on an e-bike only takes a few minutes at most.
Second, an e-bike makes your biking experience more pleasant. There will be no more huffing and puffing as you try to climb a hill. There's no more pouring sweat in the hot summer sun.
An e-bike lets you get a bit of exercise, minus the less pleasant aspects. It saves you from showing up at work with salt lines on your armpits. If you run into the wind, the bike will push you through it with no problem.
Finally, it lets you get where you're going faster. Riding an e-bike is like something between a normal bike and a moped. You can fly down the street, getting to your destination in half the time while using only half the energy.
While e-bikes do have a lot of advantages, they come with their own share of downsides.
First, e-bikes are heavy. You can easily lift a bicycle to put it into a storage rack or onto a vehicle. But the inclusion of the electric motor and battery means you'll struggle to lift your e-bike.
While the battery provides so many upsides, it does limit you. When the battery runs out, you have to pedal a heavier bicycle to get back to a charger. Plus, that means you might have to occasionally wait for your bicycle to charge.
Types of Bikes
Road and Street Bikes: These are what you imagine when you think of a bike. They're great for asphalt and concrete sidewalks, and the occasional dirt path.
They have a decent speed, accelerate well, and still give good braking power. This is ideal for navigating in a city that may have stop-and-go traffic with crosswalks. However, you need to check if they're legal where you live.
Mountain Bikes: If you want to go offroad, you'll need a mountain bike. Mountain bikes are sturdy, have the right treads for going off the beaten path, and have the suspension to handle any terrain.
A mountain e-bike means you won't have to cycle up that tricky technical terrain. You may be able to access areas that others struggle to. Plus, they save your energy for later.

Cruiser Bike: You've probably seen these ones around tourist traps. They might have a basket, and they're designed for a leisure ride.
Folding Bike: While an e-bike is heavier by design, a folding bike provides easier storage capability. This is ideal for city dwellers who need to stuff their bikes into a small closet.
Types of E-Bike Motors
E-bikes generally have 3 types of motors to choose from:
Friction Motors
Mid-drive Motors
Hub Motors
A hub motor is located either on the front wheel or the rear wheel. Of all the motor designs, these are the simplest. At most, they can throttle and provide some pedal assist.
Mid-drive motors, as the name implies, rest close to the bike's cranks.
Friction motors tend to be conversion kits. They're positioned on the seat post. These tend to be the most inefficient e-bike motors, ideal for short trips.
How Fast and Far Can an E-Bike Go?
This will depend on your make and model, but most e-bikes can cruise at about 15mph. Their range depends entirely on your battery model and capacity. The typical range of e-bikes is 18-60 miles.
E-bikes use pedal assist, which means you're providing most of the power. The e-bike is just there to help you get the bike up to speed and keep it there. Since you're doing most of the movement, the motor doesn't have to work as hard to maintain you at high speeds.
As such, e-bikes are incredibly efficient for their size and design. Since you're providing half the power, an e-bike lasts much longer than an electric scooter or other pedestrian electric vehicles.
How Long Does an E-Bike Last?
E-bikes last as long as their standard bike alternatives. However, there are two parts to keep in mind here: the battery and the motor.
Chances are your e-bike will have a lithium-ion battery, the most efficient battery type that exists. A lithium-ion battery lasts for about 300 charge cycles. After that point, the charge time and capacity degrade, and your bike's range will decrease significantly.
The motor can last anywhere between 3,000 and 10,000 miles. Using the e-bike on a daily basis will wear it down more than just using it on weekends.
All the other components on an e-bike have comparable wear to a standard bike. You will need to patch or replace tires and swap out the brake pads.
Rent an E-Bike Today
E-bikes are a great way to travel fast and far without contributing to the climate crisis. They're easy to use and make biking a joy. E-bikes can also improve your experience when mountain biking or make your commute to work easier.
Perhaps you only want to try an e-bike. Luckily, there's a bike rental near you. Rent an e-bike today and see what the fuss is about.