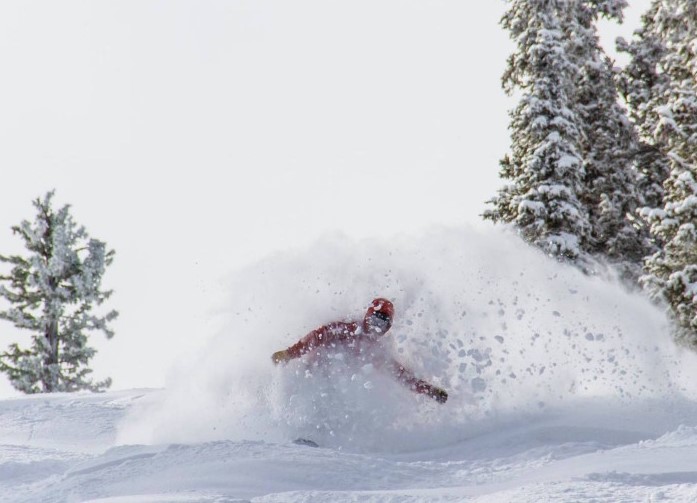 If Colorado is known for anything its skiing and Copper Mountain offers the best of the best. With over 3,429 acres of terrain, 120 trails, and 26 lifts, this charming town is a skiing and snowboarding mecca that tops the bucket list of skiers all across the land.
Copper Mountain offers a ski trip for everyone. From beginner slopes to challenging black diamonds, there's something for skiers and riders of all abilities.
Add in Nordic areas, an excellent kids' program, a plethora of dining and nightlife options, and a convenient location just over two hours from Denver International Airport, and it's easy to see why Copper Mountain should be your next ski trip destination!
Need more reasons to go skiing in Copper Mountain? Here are a few.
All Skill Levels Welcomed
One of the most popular ski destinations in Colorado, Copper Mountain is located in the heart of the Rocky Mountains, so it has some of the best skiing and snowboarding in the state.
The area has a variety of naturally divided terrain, from beginner to expert, and there are also a number of different ways to get around the mountain. You'll find several chairlifts and gondolas, as well as a variety of other transportation options that allow you to enjoy the beauty of the village while getting around.
Copper Mountain is also home to a number of different events, including the Copper Mountain Freeride Championships and the Copper Mountain Halfpipe Championships for those who seek competition to sharpen their skills or those who simply enjoy watching the sport.
Kid-Friendly With Lots of Activities for Children
Copper Mountain is the perfect place to take a ski trip with your family. Not only does it have plenty of kid-friendly activities like hiking and mountain biking, but it is also incredibly scenic. The mountain is covered in copper-colored rocks, which contrast beautifully with the white snow.
The slopes are challenging enough for experienced skiers, but there are also many beginner-friendly trails. In addition, the resort town of Copper Mountain is full of charming shops and restaurants.
It is the perfect place to relax after a long day on the slopes. Whether you are an experienced skier or a beginner, Copper Mountain is the perfect place for a family ski vacation.
Expert Groomers and Off-Piste Above Tree Line Terrain
If you're a winter sports enthusiast, you will enjoy the world-class groomers and off-piste terrain. With the six-person Super Bee Lift, you'll be able to get up the mountain and enjoy the snow all day long.
There's nothing like shredding a fresh layer of snow with friends or family, and at Copper Mountain, you can do it to your heart's content.
Affordable Accommodations
Staying in Copper Mountain is like staying in a winter wonderland. The town is quaint and charming, and the accommodations are very affordable. You can find a variety of lodging options that offer slope-side and ski-in/out accommodations.
Whether you're looking for a comfortable studio or a spacious three-bedroom townhome, you'll find it in Copper Mountain at the right price. And, they're all located in the center of the action!
360 Degree Skiing
Copper Mountain, Union Peak, and Tucker Mountain offer some of the best 360-degree skiing in the area. With three separate peaks, there is something for everyone. The peaks are well maintained and offer a variety of trails for all levels of skiers.
Copper Mountain is the largest of the three peaks and offers the most trails. It is also the most popular peak, so you'll find a lively experience, especially on the weekends.
High-Speed Lifts
Copper Mountain has quite a few high-speed, high-capacity lifts. This means that lift lines are brisk with little to no wait times. The views from the top of the mountain are breathtaking, you will feel like you're on top of the world.
If you're searching for a peaceful location to unwind and focus on skiing, ride the 6-person Super Bee chair. It will take you to some of the resort mountain's best-groomed slopes.
If you're lucky enough to be skiing on Cooper Mountain during a powder day, you'll never forget it!
Check Out the Tubing Hill
Skiing in Copper Mountain can be a blast, but sometimes you need a change of pace. That's where the tubing hill comes in! This unique activity is perfect for those who want to mix things up.
You'll get to experience the thrills of skiing without having to tackle the slopes. And best of all, it's great for all ages. So whether you're young or young-at-heart, the tubing hill is there to provide a fun and unique experience.
Woodward Copper
Looking for great fun on and off the hill? Look no further than Woodward's numerous terrain parks on Copper Mountain. Woodward's Central Park is where you will see Olympians training for gold medals. Looking for a more entry level terrain park? Head into the Peace Park with fun features for the whole family. The fun at Woodward doesn't stop when the mountain closes. Jump on olympic style trampolines and into numerous foam pits. This is a must do activity for the kids!
Snowboarding
Snowboarding is one of the most popular winter sports, and Copper Mountain is a great place to enjoy this activity. The family can spend the day snowboarding together and then enjoy some quality time in the hot tub back at the lodge.
A thrilling adventure awaits those who are willing to strap on a snowboard and head down the mountain.
Take Lessons
There is plenty of beginner-friendly terrain in Copper Mountain for those who are new to winter sports. Even better, there are plenty of lessons available to help you get the most out of your vacation.
Whether you're interested in skiing or snowboarding, the experts that offer lessons around Copper Mountain will make sure you have a great time. Lessons are available for all levels whether you're a newbie or you're wanting to sharpen your skills.
Plan Your Copper Mountain Ski Trip Today!
Copper Mountain has something for everyone. With world-class skiing, charming accommodations, and a variety of activities, this Colorado ski resort is the perfect place for your next ski trip. Start planning your getaway today!
Don't worry about winter gear. Norski Sports has bike rentals and safety gear to help you enjoy the slopes and the many trails around the resort town.
Save 20% when you reserve online today! Let us take the hassle out of skiing on Copper Mountain so you can relax and enjoy your time here on the slopes.